Posts Tagged 'books'
▀▀▀▀▀▀▀▀▀▀▀▀▀▀▀▀▀▀▀▀▀▀▀▀▀▀▀▀▀▀▀▀▀▀▀▀▀▀▀▀▀▀▀▀▀▀▀▀▀▀▀▀▀▀▀▀▀▀▀▀▀▀▀▀▀▀▀
First off, I'm doing some upgrading (i.e. breaking what actually works) on my computer this week, so if I seem absent, that's where I've absented to. If I ever get finished fixing the stuff I broke for no good reason at all whatsoever, I'm planning to come and fix-up ruin a bunch of stuff here on/in my theme and categories and pages and stuff. I got all sorts of plans for organizing things in the most perfect way. I'm menstruating (mark your calenders!) and am experiencing the delusions of grandeur super-genius side effect of menstruation that all us women, of course, experience. In my case it was helpfully accompanied by, as usual, the "irrationally enraged emotional breakdown" side effect that insures I will be left alone to be the delusional person super-genius that my hormonal fluctuations enable.

Other than that, I've been reading about the "settlement movement" which was, from what I've read so far, made popular by Jane Addams who founded Hull House in Chicago. At some point the other day I came across in my readings the mention of "The Two Miseries", and came to learn Jane Addams said that one misery was the plight of the poor, and the other misery was the plight of privileged college-educated girls who were bored and/or sad but mostly feeling useless. Apparently the perfect solution was to let the college girls use the help the poor in order to lessen their malaise. 

A primary concern of Addams was the young immigrant women that she saw as prone to exploitation as well as easily tricked and trapped into lives of prostitution due to their unfamiliarity with US custom, procedure, and language. Yeah, it's that status quo, the one where privileged women turn into Nightmare Nannies for all the poor unfortunates of lesser breeding. Addams wrote a book titled A New Conscience and An Ancient Evil, which so far sounds like an olde timey version of Kathleen Barry's Female Sexual Slavery, or pretty much anything written by Catharine MacKinnon. For instance:

It is easy to see why it thus becomes part of the business to break down a girl's moral nature by all those horrible devices which are constantly used by the owner of a white slave. Because life is so often shortened for these wretched girls, their owners degrade them morally as quickly as possible, lest death release them before their full profit has been secured. In addition to the quantity of sacrificed virtue, to the bulk of impotent suffering, which these white slaves represent, our civilization becomes permanently tainted with the vicious practices designed to accelerate the demoralization of unwilling victims in order to make them commercially valuable. Moreover, a girl thus rendered more useful to her owner, will thereafter fail to touch either the chivalry of men or the tenderness of women because good men and women have become convinced of her innate degeneracy, a word we have learned to use with the unction formerly placed upon original sin. The very revolt of society against such girls is used by their owners as a protection to the business.
Deja Boo.

So, just saying, again, nothing radical or even remotely "groundbreaking" or "status quo busting" about anything the anti-prostitution crowd says, not to mention Addams, like MacKinnon, like ALL of them – was influenced by the writings of men. So, not only is it not status quo busting and not at all new or radical either, it's not even original thought from any of these women. Prostitutes at least haven't been brainwashed the way those types have been, by seminary education straight outta patriarchy that says a woman's dignity is in her vagina enjoys sex best when committed to a particular individual.

———-

Also, Look! at all the neat-o stuff I'm "reading"; I just discovered that I can put google books on a google shelf for google reading a little google later when I have more google time.
▀▀▀▀▀▀▀▀▀▀▀▀▀▀▀▀▀▀▀▀▀▀▀▀▀▀▀▀▀▀▀▀▀▀▀▀▀▀▀▀▀▀▀▀▀▀▀▀▀▀▀▀▀▀▀▀▀▀▀▀▀▀▀▀▀
Simone de Beauvoir wrote The Second Sex , which as far as I can tell is considered every true feminist's favorite feminist book. I often see it recommended as a feminist "primer" of sorts, in addition to it being a part of, in some way or another, women's studies programs around the globe. Her existentialist feminism gave us the concept of "woman" as "other", and we've been pretty much fucked ever since.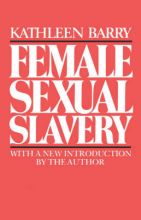 Female Sexual Slavery, by Kathleen Barry, originally published in 1979.
I read this book when I was 12. The title was too hard to resist, I was afraid the cashier wouldn't sell it to me, so I stole it.
The only 2 reviews on Amazon: (wheeeee! look, I learned that tables copy right over in visual mode – I's so smart~)